GLASSHOUSE Kolonihavehus
16. 4. 2012  - 5. 5. 2012 
Výstavy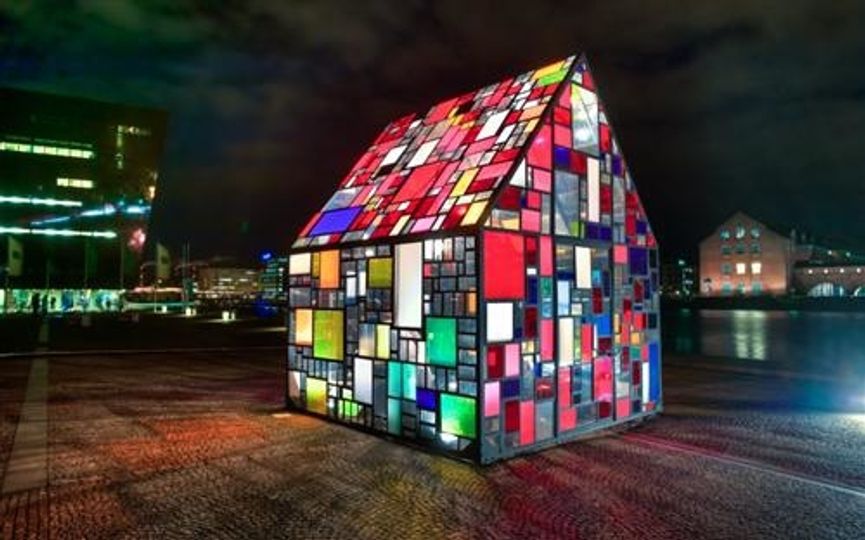 To mark the Danish presidency of the EU, the National Theatre's New Stage will present two original Danish projects in April and May: the National Theatre's piazzetta will host the poetic performance piece REFLECTION, framed by the glass house installation Kolonihavehus. The TinCanCompany will then perform its work FISH for both children and adults in the main hall of the New Stage.
From April 17th to May 6th a glasshouse created CoreAct in collaboration with the American artist Tom Fruin will be installed at the piazzeta. The colourful house glows with the warmth and inviting atmosphere of a cottage house, a surprising element in a public space. From April 17th to 24th the performance Reflection will take place, framed by the Kolonihavehus setting of happenings organized by the Danish group CoreAct (Anika K. Barkan and Helene Kvint). Performances start from 5 pm to 8 pm – come anytime that suits you best. Entrance is free of charge. Come in and have a new reflection
Reflection/Kolonihavehus is conceived, performed and produced by CoreAct i.e. Anika K Barkan and Helene Kvint. Sculpture by Tom Fruin, sound design by Astrid Lomholt, original lighting design by Nuno Neto, re-deigned lights by Mikkel Jensen and Frantisek Fabian, poetry by Vagn Steen and costumes by Camilla Lind.
Anika K. Barkan and Tom Fruin started working together in 1998 and co-founded the inter-disciplinary art group Transmission Projects in New York. From 1999-2004 Transmission Projects explored and produced five site-specific performance installations. Reflection/Kolonihavehus is a continuation of this collaborative exploration.
On May 7th at 8 pm and on May 8th at 5 pm the New Stage will host the independent Danish company TinCanCompany who are coming to perform their very first show in the Czech Republic. Formed in 2005, the company has been developing their individual approach to the genre of new circus. Their pieces are playful, twisted, comical, physical and poetic, exploring the human nature for better or worse. Following the European clownery tradition, they exaggerate human faults and parody the clichés of everyday behaviour and the deformity of characters. TinCanCompany are coming to the New Stage with Fish – their poetic love story on the meeting of two outsiders: Gerda – a lonely woman who has no companion but her aquarium fish, and Rolf – a weirdo who works at a pet shop.
Both projects are supported by the Danish Embassy in Prague and the Danish Arts Council Committee for Performing Arts.