SYMPOSIUM / Experimental Architecture Biennial #3
25. 10. 2017 
22:00
Ostatní akce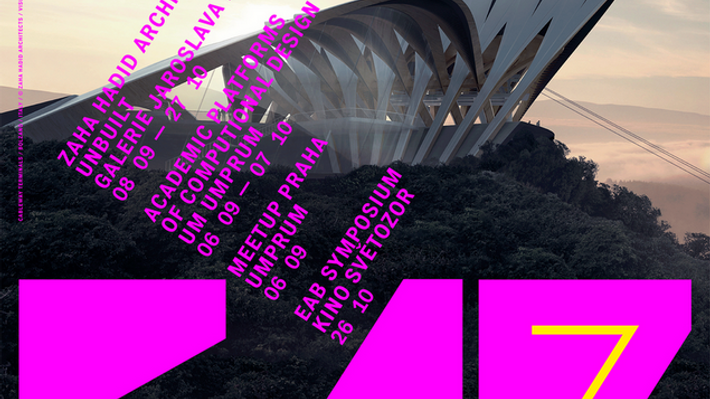 Sympozium EAB #3
SYMPOSIUM / Experimental Architecture Biennial #3
The international symposium of experimental architecture is always an integral part of EAB. This year's lecture will again include a group of leading US and European experts: the director of Zaha Hadid Architects Patrik Schumacher, his colleagues Jakub Klaška and Shajay Bhooshan (cofounder of CODE, ZHA atelier researching computational design), Ben van Berkel (cofounder of UNStudio, NL), Filippo Gilardi (MX3D, NL), Preston Scott Cohen (Harvard University, NY, USA), David Ruy (SCI-Arc, LA, USA), Moritz Dörstelmann (ICD/ITKE Universität Stuttgart, DE), Michael Hansmeyer (DE), Wolf D. Prix (cofounder of Coop Himmelb(l)au, AT) and Kristina Schinegger(cofounder of SOMA, AT).
ADMISSION:
300 Kč/ student
600 Kč/ other
Tickets can be purchased directly at the Světozor cinema or on the WEBSITE.
PROGRAM
08:00 – 08:45 Opening venue
08:45 – 09:00 Opening speech
09:00 – 10:00 Patrik Schumacher / Zaha Hadid Architects
10:00 – 10:30 Shajay Bhooshan / ZHA Code
10:30 – 11:00 Jakub Klaska / Zaha Hadid Architects
11:00 – 12:00 Michael Hansmeyer
12:00 – 13:00 Lunch break
13:00 – 14:00 Ben van Berkel / UNStudio
14:00 – 15:00 David Ruy / SCI-Arc
15:00 – 16:00 Preston Scott Cohen / Harvard University
16:00 – 16:30 Filippo Gilardi / MX3D
16:30 – 17:00 Coffee break
17:00 – 18:00 Wolf D. Prix / Coop Himmelb(l)au
18:00 – 18:30 Kristina Schineger / SOMA
18:30 – 19:00 Moritz Dorstelmann / ICD/ITKE
19:00 – 19:30 Closing venue
EXPERIMENTAL ARCHITECTURE BIENNIAL #3
Jaroslav Fragner Gallery and the Academy of Arts, Architecture and Design in Prague will present the third year of Experimental Architecture Biennial in the course of September and October. Biennial, the only platform dealing with experimental architecture, will again introduce interesting personalities from the international stage. It will offer exhibitions of interiors by Zaha Hadid Architects, as well as professional schools, a site-specific pavilion, meetup of academic workplaces, workshops as well as interesting film screenings. The Biennial will culminate with an international symposium featuring, among others, Patrik Schumacher (Zaha Hadid Architects), Ben van Berkel (UNStudio) and Wolf D. Prix (Coop Himmelb(l)au).
The first year in 2013 was devoted to academic ateliers in Vienna (dieAngewandte, very prestigious in the field) and Innsbruck (Institute for Experimental Architecture), in the Czech Republic (UMPRUM, CTU Faculty of Architecture) and in Slovakia (Academy of Fine Arts and Design in Bratislava). The second year subtitled New Manifesto presented significant and influential architects and pedagogues of the middle generation (USA, Europe, Australia) with diverse approaches and specialisations in the field. This year will introduce both academic workplaces and projects by Zaha Hadid Architects shown in competitions but which have not been made public or implemented yet. The news of this year's event will be the experimental site-specific pavilion for Lesser Town Square, which was designed by students under the guidance of Kristina Schinegger and Stefan Rutzinger (SOMA atelier, Vienna) at the University in Innsbruck.
EXPERIMENTAL ARCHITECTURE BIENNIAL is the first platform in the Czech Republic mapping and introducing this architecture. It was founded by Architectura association in 2013. The Biennial mediates meetings with internationally recognised experts and ateliers. It consists of exhibitions and symposiums. EAB will again include student workshops, a new site-specific pavilion on Lesser Town Square with thematic screenings (in cooperation with NFA and FAMU) and a Czech-English publication summarising the past 3 years.
Experimental architecture is an alternative to mainstream building production. It takes advantage of the contemporary tools of parametric design, robotic systems and synthetic biology. It is directly connected to development of technologies and materials. Experimental architecture designs are characterised by multiformity, plasticity and natural tectonics. In the Czech environment, experimental architecture is addressed in the long term by pedagogues Miloš Florián at CTU Faculty of Architecture in Prague, Imrich Vaško at Academy of Arts, Architecture and Design in Prague (atelier AIII since 2011) and Martin Gsandtner (Academy of Arts, Architecture and Design in Prague, Archip, CTU Faculty of Architecture).
Experimental Architecture Biennial #3 is held under the auspices of the Czech Commission for UNESCO
Organiser: Jaroslav Fragner Gallery
Supported by: Ministry of Culture of the Czech Republic, State Cultural Fund of the Czech Republic, Prague 1 Municipal District, Czech Architecture Foundation
EAB partners: Capital City of Prague, Penta Investments, US Embassy in the Czech Republic, Austrian Cultural Forum, Baumit, Czech-German Fund for the Future, Embassy of the Kingdom of the Netherlands, Fedrigoni, CIIRC of CTU
In cooperation with: Academy of Arts, Architecture and Design in Prague, National Film Archive, Film and TV School of Academy of Performing Arts in Prague, University of Innsbruck
Partners of Zaha Hadid Architects: Unbuilt: Zaha Hadid Architects, Zaha Hadid Design, Samsung, HMAT.sk, 3Dwiser, VA–render.com
JFG partners: HALLA, AED, Archicad, Schüco
EAB media partners: Artmap, Material Times
JFG media partners: archiweb.cz, Earch, Era 21, A2, Radio 1, Designmag, DesignCabinet.cz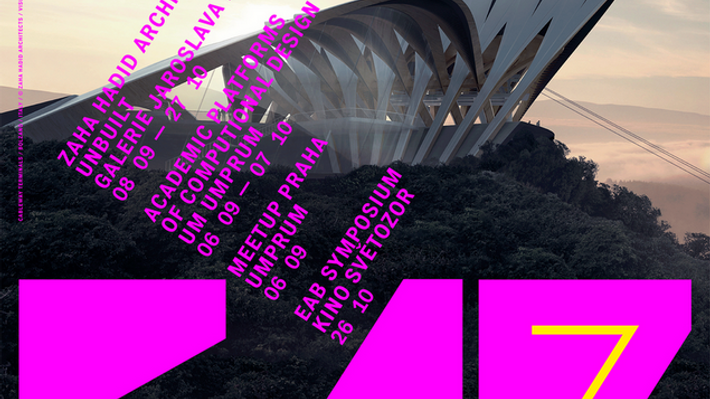 Sympozium EAB #3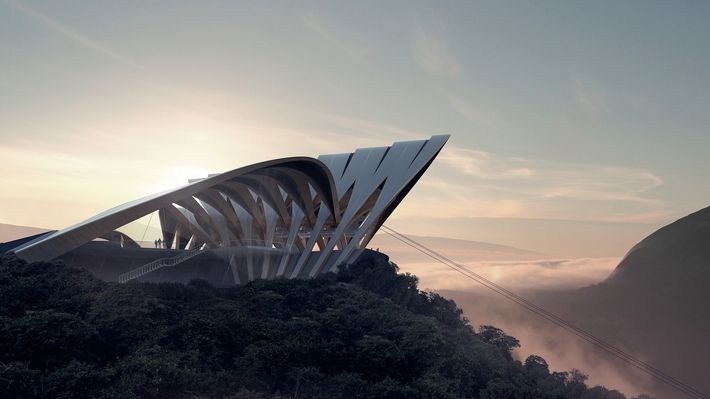 Patrik Schumacher / Zaha Hadid Architects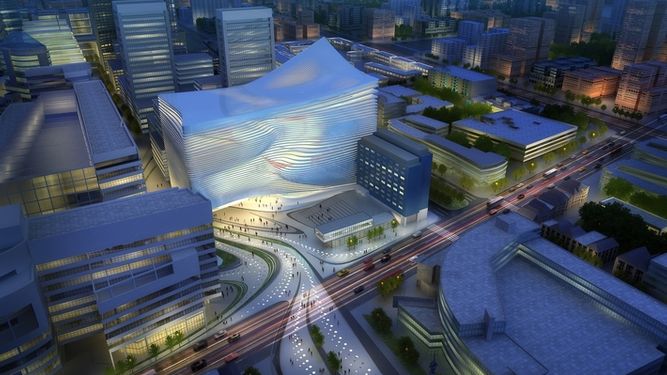 Wolf D.Prix / Coop Himmelb(l)au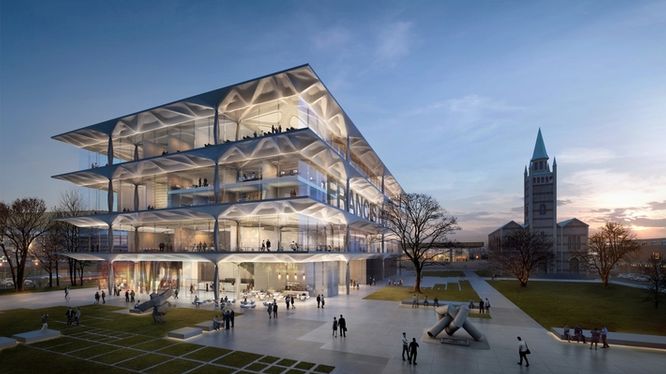 Kristina Schinegger / SOMA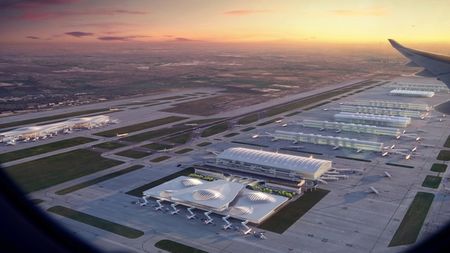 Michael Hansmeyer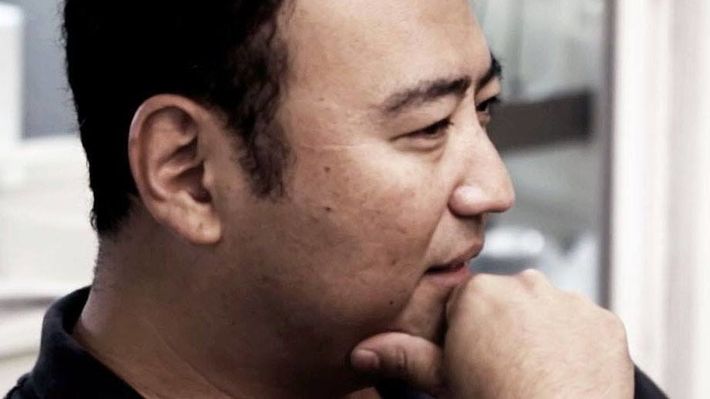 David Ruy / SCI-Arc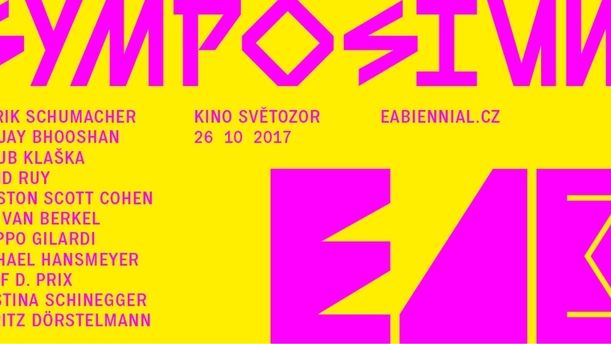 Sympozium EAB #3