VERNISSAGE / SCREENING / OPEN STUDIOS / PERFORMANCE
24. 9. 2015 
17:00
Ostatní akce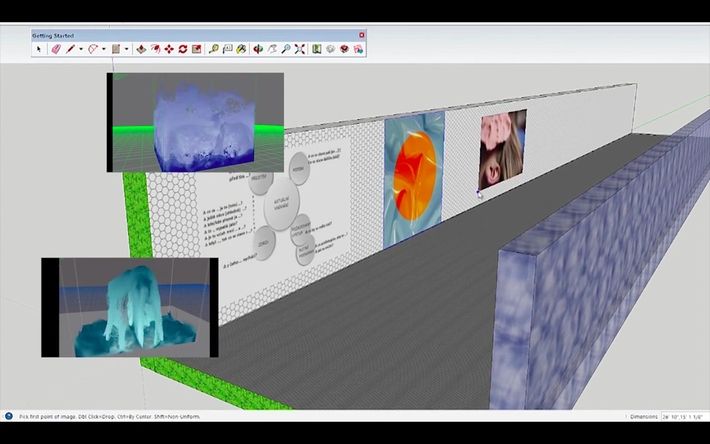 An inter-genre evening in MeetFactory: we invite you t the opening of an exhibition of David Přilučík and Vojtěch Rada Formative Effects in the Kostka Gallery, screening of the video On the Fluidity of a Client, performative lecture by Romanian artist Bogdan Achimescu and of course our Open Studios.
EXHIBITION FORMATIVE EFFECTS
In Formative Effects David Přílučík and Vojtěch Rada try to explore spaces which opens between the concreteness and the universality of objects. They try to search amidst thing's individual memory and its depersonalised uniformity.  The question of how flawless prefabricated things, created only with aim of consumption, could be integrated in our imperfect presence is seeked through installation developing from a detail to collage of architectonic forms. The matter is "What are the formative effects of our surroundings?". But at the same time it is impossible to omit from authors approach their concern in the object's  form and its appearance.
VIDEO ON THE FLUIDITY OF A CLIENT
Video by Barbora Švehláková On the Fluidity of a Client is a visual essay based on a critical reflection of a training method called 'Symbolic Modeling' and used to enhance labor efficiency of corporate employees. Symbolic modeling originates in the therapy method of 'clean language', consisting in posing an exact structure of questions filled with phrases used by the client. The video is based upon a transcript of a dialogue that uses the 'clean language' method; at the same time the dialogue is confronted with empty pictorial metaphors from Internet databanks. Barbora Švehláková is a student of the Intermedia Confrontation studio, the Academy of Arts, Architecture and Design, Prague.  
PERFORMATIVE LECTURE
Performative lecture by Romanian artist Bogdan Achimescu will explore a set questions, they touch upon the will to "attain the unattainable", our cognitive limits or the possibility of getting out of one's body. Performative lecture is part of series of events accompanies the exhibition The Second Death of George Mallory presented at Karlin Studios. Bogdan Achimescu graduated from
the Visual Arts Academy in Cluj, he is a lecturer and head of the Intermedia Department at the Fine Arts Academy in Kraków. In his artistic practice Achimescu focuses on the DIY culture, using such media as, among all, drawing and photography.
CRITICAL STUDIO
The new experimental and process-based residency project Critical Studio, which aims to advance critical reflection and exchange about residency structures, about their followers, companions and publics, will present results of mutual work participating artists: Jomar Statkun (US) a Nadja Frank (DE) / THIS RED DOOR, Jens Heitjohann (DE), Katarina Zdjelar (RS/NL) a Rafael Vogel (DE).
OPEN STUDIOS
The first floor of MeetFactory will be open again with our Open Studios – see and chat with these artists: Kuba Woynarowski (PL), Urban Space Epics (US), Naomi Fitzsimmons (GB), Axel Gouala (FR), Viktor Valášek (CZ), Anabela Žigová a Mária Modrovich (SK).