The Sea Monster, The Bear
25. 1. 2020  - 14. 3. 2020 
Výstavy
lítost
Vlkova 23, Žižkov, 130 00 Praha 3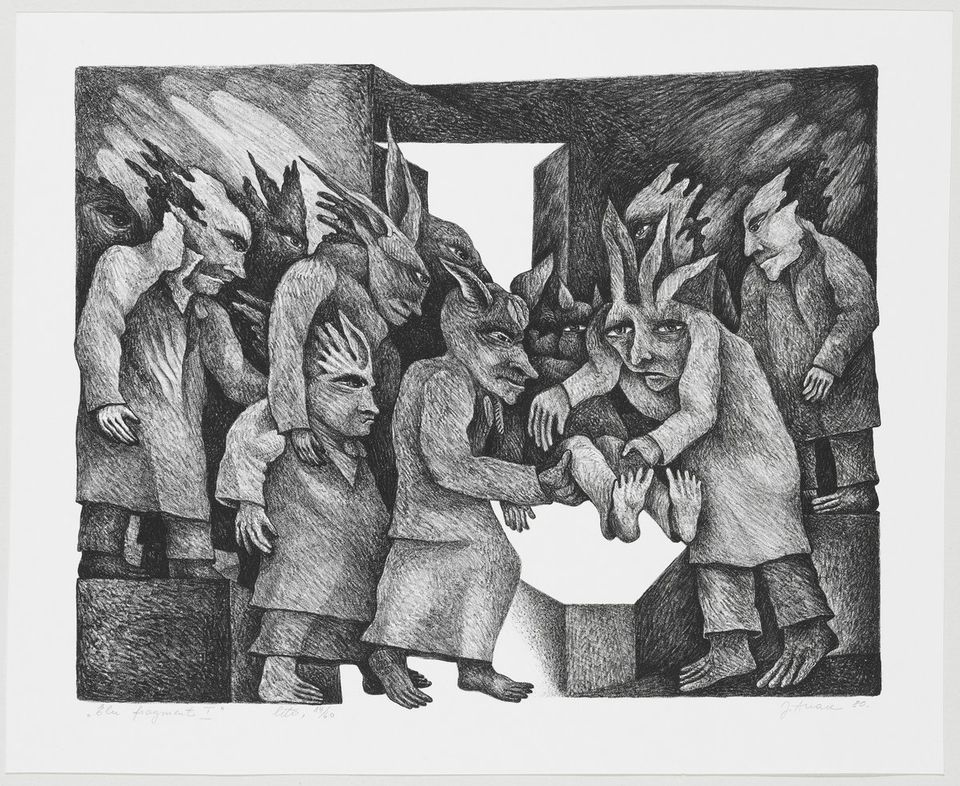 Jüri Arrak, 'Scene I', (1980), print, lithograph on paper, 35 cm × 45 cm. © Jüri Arrak
Join us for the preview of The Sea Monster, The Bear curated by Àngels Miralda at lítost, Vlkova 23, Prague 3 – Žižkov on Friday 24 January 2020, 6 pm.
The Sea Monster, The Bear, imagines our process of thinking developed on a historical level as an analogy for established curatorial methods. Taking Pier Paolo Pasolini's The Trilogy of Life (1971–74) as a methodology for curatorial compilation, the exhibition aims to collect a series of stories expressed in images and objects with bridges extending to individual narratives. Pasolini's trilogy uses anthology of tales by several authors to create a feeling through the aesthetics of storytelling. In the same way that most compilations of regional lore are collected and passed on, each generation translates these histories into their dynamics. From the oral tradition of the Arabian Nights (c. 800) to Geoffrey Chaucer's first writing in native English tongue in The Canterbury Tales (c. 1400) and Giovanni Boccaccio's The Decameron (c. 1353), the compilation becomes a meta-collection mirroring the process of each book's structure of a plurality of voices.
The fragmentary structure of these tales based on oral histories is a rebel in its character. Popular culture based on the folk traditions of fairy-tales and local mythologies serve various purposes from moralization to the construction of shared cultural values, and in their cacophonous worldliness, emerge from an unrecognised human unconscious. They serve as a veiled criticism of aristocratic and religious elites or pass down wisdom millennia in the making. This exhibition puts forward plurality and narrative as well as non-linear history as a powerful method of criticism and historical revisionism. The Sea Monster, The Bear, is a compilation in which several cases bring forth a complete viewpoint, and albeit fragmentary, the movement from one to the other is filled with the significant void.
The Sea Monster, The Bear includes a Curator's tour of the exhibition led by the curator Àngels Miralda. It will take place on Thursday 6 February 2020, 6 pm as part of Žižkov First Thursdays.
EXHIBITION PARTNERS
The exhibition has been kindly supported by the Embassy of Estonia Prague, the Cultural Endowment of Estonia, the Ministry of Culture Czech Republic Arts Grant, the Culture Fund of Czech Republic Arts Grant, the Prague City Hall's Cultural and Arts Grant and Key Promotion.
For more information, including artist biographies, please click here.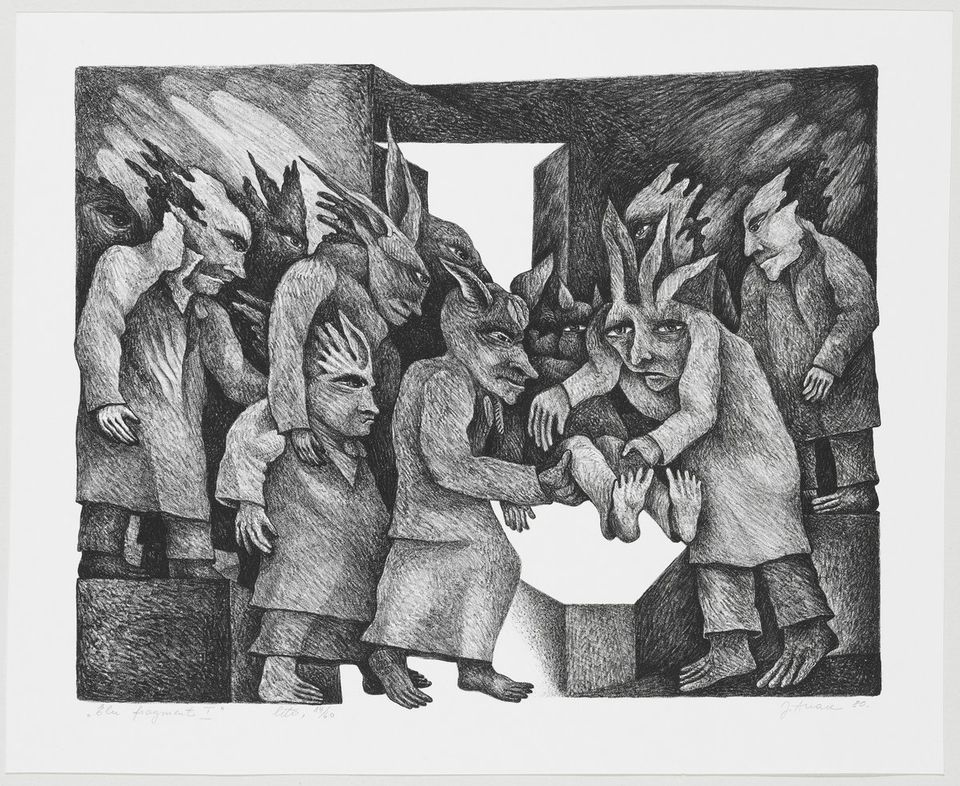 Jüri Arrak, 'Scene I', (1980), print, lithograph on paper, 35 cm × 45 cm. © Jüri Arrak