Social & Political Structure of Fantasy
6. 10. 2010  - 5. 10. 2010 
Vernisáže
Vernon Projekt
Heřmanova 12, 170 00 Praha 7
Instituce ukončila činnost v roce 2013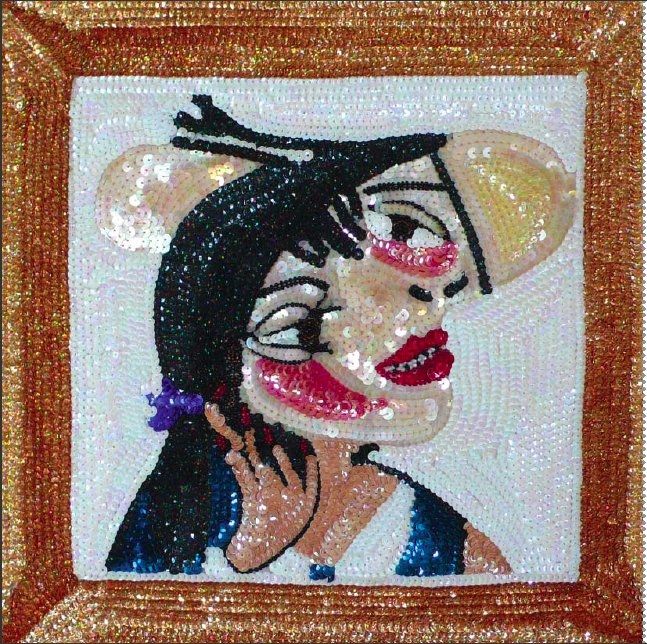 Daniel González (born in Argentina, 1963) lives and works in Berlin and New York. "I mold reality to create magic. I transform it using its own rules, changing the world one sequin at a time. This is rebellion through beauty" Daniel González's public projects, sequin banner-paintings and unique wearable pieces presented in high-impact performances create delirious, sexy and energetic worlds: spaces of freedom where the existing conventions collapse. Since 2007, he has worked with Italian artist Anna Galtarossa on public projects. Among these are two large-scale works: the first, "Chili Moon Town Tour", a utopian floating city of dreams, opened on Lago Mayor of Bosque de Chapultepec in Mexico City in 2007. The second "Homeless Rocket With Chandeliers", produced in Lambrate (Milan) was a crane-installation in use in a building site, contaminated with objects and materials that refer to street culture and the freedom it can transmit.
In 2008 Daniel González was invited to create a workshop-performance for Manifesta 7 and since then his work has been exhibited in the Zablidowicz Collection in London, in the Musée d'Art Contemporain de Bordeaux and at Diana Lowenstein's gallery in Miami.
"Apparently restless cross-cultural jammer and actually just an unconstraint visual artist, Daniel González works non-stop at new collections of unique pieces that he presents by means of radical and eccentric performances. They are fifteen-minute actions squatting social, political and power-soaked spaces giving back pure behavioural and visual energy. " (Andrea Lissoni)
Social and Political Structure of Fantasy
"Changing the world" is a statement mainly attributed to political and, in the case of modernist cultural imagery, to the function of the artist.
"Changing the world" is changing the state of reality through our own vision, using the rules and adapting them to our own needs in order to unleash a rebellion through beauty.
Achieving to dream reality as raw material and creating spaces of freedom where conventions collapse, in order to still believe that we can change the world, starting with one sequin at a time.