Experimental Architecture Biennial #3
5. 9. 2017  - 26. 10. 2017 
Výstavy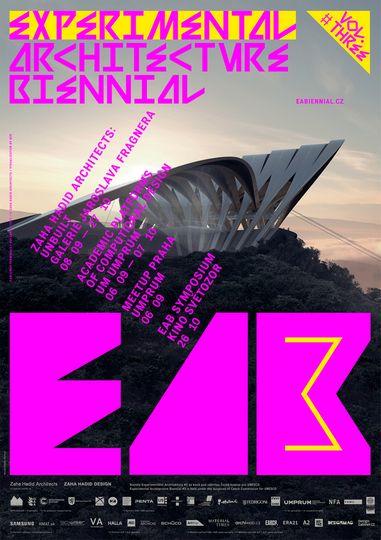 Bienále experimentální architektury #3
Jaroslav Fragner Gallery and the Academy of Arts, Architecture and Design in Prague will present the third year of Experimental Architecture Biennial in the course of September and October. Biennial, the only platform dealing with experimental architecture, will again introduce interesting personalities from the international stage. It will offer exhibitions of interiors by Zaha Hadid Architects, as well as professional schools, a site-specific pavilion, meetup of academic workplaces, workshops as well as interesting film screenings. The Biennial will culminate with an international symposium featuring, among others, Patrik Schumacher (Zaha Hadid Architects), Ben van Berkel (UNStudio) and Wolf D. Prix (Coop Himmelb(l)au).
The first year in 2013 was devoted to academic ateliers in Vienna (dieAngewandte, very prestigious in the field) and Innsbruck (Institute for Experimental Architecture), in the Czech Republic (UMPRUM, CTU Faculty of Architecture) and in Slovakia (Academy of Fine Arts and Design in Bratislava). The second year subtitled New Manifesto presented significant and influential architects and pedagogues of the middle generation (USA, Europe, Australia) with diverse approaches and specialisations in the field. This year will introduce both academic workplaces and projects by Zaha Hadid Architects shown in competitions but which have not been made public or implemented yet. The news of this year's event will be the experimental site-specific pavilion for Lesser Town Square, which was designed by students under the guidance of Kristina Schinegger and Stefan Rutzinger (SOMA atelier, Vienna) at the University in Innsbruck.
ACADEMIC PLATFORMS OF COMPUTATIONAL DESIGN / UM GALLERY
6 September – 7 October 2017
The exhibition of Academic platforms of computational design (UM Gallery at the Academy of Arts, Architecture and Design in Prague) will in the first instance serve to introduce UMPRUM Prague and many other prestigious foreign schools, such as CITA Copenhagen, ICD/ITKE Stuttgart, UCL Bartlett London, IAAC Barcelona, ETH Zurich, Institute for Advanced Architecture of Catalonia, TU Wien and MOLAB of CTU Prague. Academic platforms are not only places for sharing knowledge and expertise needed for the profession, but also a unique environment for research and innovation. New technologies of design and production require a greater role for experimenting, testing, prototyping and development. Within Western European (and elsewhere) educational institutions are created platforms focused on the development of the possibilities of computational design and new technologies in cooperation with associated fields, which are characterised by close cooperation with other scientific disciplines and technological research. The exhibition presents the potential for research in the field of computational architectural design on academic platforms through models, prototypes and video presentations. In this context, works of selected Central European platforms that are oriented to computational design in architecture (ateliers AIII UMPRUM and MOLAB) are also presented.
MEETUP PRAGUE / UMPRUM
6 September
The opening of the exhibition on 6 September at 18:00 will be preceded by the Meetup Prague (10:00 – 17:00) conference with guests from represented schools: Phil Ayres, Giulio Brugnaro, Jan Petrš, Jindřich Ráftl, Shota Tsikoliya, Imro Vaško, David Kovařík, Tomáš Tholt, Mateusz Zwierzycki, Erik Martinez, Martin Alvarez, Christopher Müller and Stefana Parascho.
ZAHA HADID ARCHITECTS: UNBUILT / JAROSLAV FRAGNER GALLERY
8 September – 27 October 2017
The Zaha Hadid Architects: Unbuilt exhibition will open in the Jaroslav Fragner Gallery on Thursday 7 September during the Bethlehem Cultural Night. The exhibition and its architectural concept were prepared for the Biennial directly by ZHA studio. It brings a series of concepts in terms of typology (high-rise buildings, mega atriums, stadiums, shells, etc.) which the studio develops continually. Therefore, it presents not only own designs, but also illustrates the procedures and design process used in the famous British studio. Ambitious visions, constant improvement, effort for innovations, seeking the best technologies and functional parameters are the main reasons for the success of the atelier which at present employs more than 400 experts and constructors around the world. In addition to visualisations, visitors can also familiarise themselves with the creations of Zaha Hadid Architects in the form of 3D printed models, the presentation of projects by virtual reality and film documents. Separately from the main exhibition premises, the JFG will also feature the project of Masaryk Station Investment, which ZHA studio designed for Prague (administrative centre with shops and residential units, including renovation and modernisation of Masaryk railway station).
EAB SYMPOSIUM / KINO SVĚTOZOR
26 October 2017
The international symposium of experimental architecture is always an integral part of EAB. This year's lecture will again include a group of leading US and European experts: the director of Zaha Hadid Architects Patrik Schumacher, his colleagues Jakub Klaška and Shajay Bhooshan (cofounder of CODE, ZHA atelier researching computational design), Ben van Berkel (cofounder of UNStudio, NL), Filippo Gilardi (MX3D, NL), Preston Scott Cohen (Harvard University, NY, USA), David Ruy (SCI-Arc, LA, USA), Moritz Dörstelmann (ICD/ITKE Universität Stuttgart, DE), Michael Hansmeyer (DE), Wolf D. Prix (cofounder of Coop Himmelb(l)au, AT) and Kristina Schinegger (cofounder of SOMA, AT).
Tickets are available for presale online or at the ticket office of Kino Světozor.
EXPERIMENTAL SITE-SPECIFIC PAVILION / LESSER TOWN SQUARE
16 – 30 October 2017
Austrian architects Kristina Schinegger and Stefan Rutzinger (SOMA), who have wide experience with experimental architecture implementations, and their students from the university in Innsbruck will build an experimental site-specific pavilion from cellulose on the Lesser Town Square in the second half of October. Modified cellulose, on whose development students of the faculty of architecture have worked intensively during the previous semester to be used in EAB #3, will show visitors the possibilities of the material character in different parts of construction.
The pavilion, designed specifically for Lesser Town Square, will also change into a summer minicinema. The director and curator of the National Film Archive, Johana Švarcová, has prepared three screenings of student films from the FAMU Cinematography Department for the three evenings. This thematic video devoted to architecture and space composed of exercises from the first year is called Familiarisation. For several years, this exercise has given the students of the Cinematography Department the task of shooting a short video on the piazzetta of the National Theatre and visually comparing modern architecture with historical architecture in a single film.
(Dates and times of the showings: Tuesday, 10 October; Monday, 16 October; and Tuesday, 24 October; starting at 19:00 every evening)
WORKSHOPS / JAROSLAV FRAGNER GALLERY
Following the previous edition, workshops will also take place this year: GROTTO 4.0 – Jindřich Ráftl, Jan Tůma (Studio R/FRM, 14 – 15 September), HACKING PAPER – Martin Gsandtner, Ondřej Pokoj (EAB, 6 – 8 October) and META MATTER – Jakub Klaška, Igor Pantić (ZHA, 23 – 25 October). The workshops will provide experience and familiarisation with the strategy of digital design, testing of material and verification of the research for implementation of the spatial concept. At the same time, the participants will be able to meet professionals directly and become part of EAB exhibition. The workshop is focused primarily on students of architecture, design, fashion and art, but it is also open to the wider professional public.
More information about enrolment for the workshop will be found at www.eabiennial.cz, where you will also find the contact details of the individual workshop managers.
EXPERIMENTAL ARCHITECTURE BIENNIAL is the first platform in the Czech Republic mapping and introducing this architecture. It was founded by Architectura association in 2013. The Biennial mediates meetings with internationally recognised experts and ateliers. It consists of exhibitions and symposiums. EAB will again include student workshops, a new site-specific pavilion on Lesser Town Square with thematic screenings (in cooperation with NFA and FAMU) and a Czech-English publication summarising the past 3 years.
Experimental architecture is an alternative to mainstream building production. It takes advantage of the contemporary tools of parametric design, robotic systems and synthetic biology. It is directly connected to development of technologies and materials. Experimental architecture designs are characterised by multiformity, plasticity and natural tectonics. In the Czech environment, experimental architecture is addressed in the long term by pedagogues Miloš Florián at CTU Faculty of Architecture in Prague, Imrich Vaško at Academy of Arts, Architecture and Design in Prague (atelier AIII since 2011) and Martin Gsandtner (Academy of Arts, Architecture and Design in Prague, Archip, CTU Faculty of Architecture).
Experimental Architecture Biennial #3 is held under the auspices of the Czech Commission for UNESCO
Organiser: Jaroslav Fragner Gallery
Supported by: Ministry of Culture of the Czech Republic, State Cultural Fund of the Czech Republic, Prague 1 Municipal District, Czech Architecture Foundation
EAB partners: Capital City of Prague, Penta Investments, US Embassy in the Czech Republic, Austrian Cultural Forum, Baumit, Czech-German Fund for the Future, Embassy of the Kingdom of the Netherlands, Fedrigoni, CIIRC of CTU
In cooperation with: Academy of Arts, Architecture and Design in Prague, National Film Archive, Film and TV School of Academy of Performing Arts in Prague, University of Innsbruck
Partners of Zaha Hadid Architects: Unbuilt: Zaha Hadid Architects, Zaha Hadid Design, Samsung, HMAT.sk, 3Dwiser, VA–render.com
JFG partners: HALLA, AED, Archicad, Schüco
EAB media partners: Artmap, Material Times
JFG media partners: archiweb.cz, Earch, Era 21, A2, Radio 1, Designmag, DesignCabinet.cz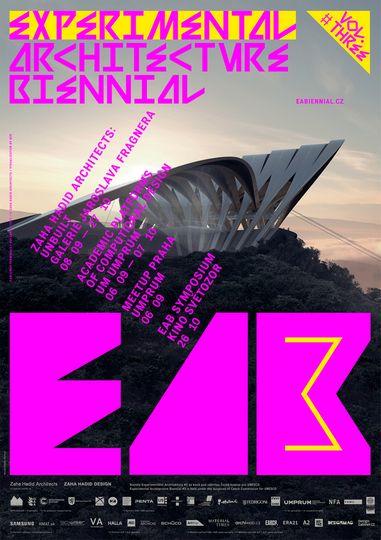 Bienále experimentální architektury #3
ZAHA HADID ARCHITECTS: UNBUILT / vizual EAB © Štěpán Malovec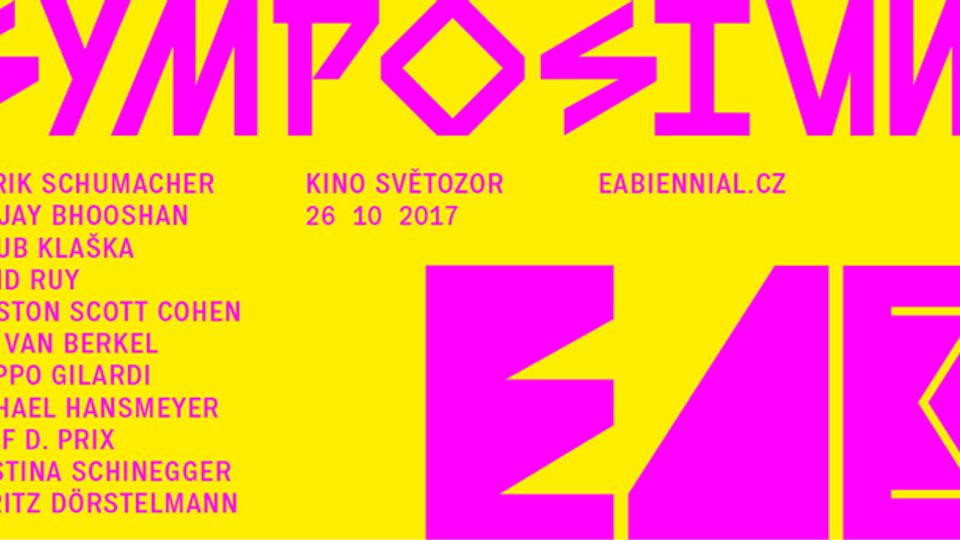 EAB SYMPOZIUM – 26. 10. 2017 / vizual EAB © Štěpán Malovec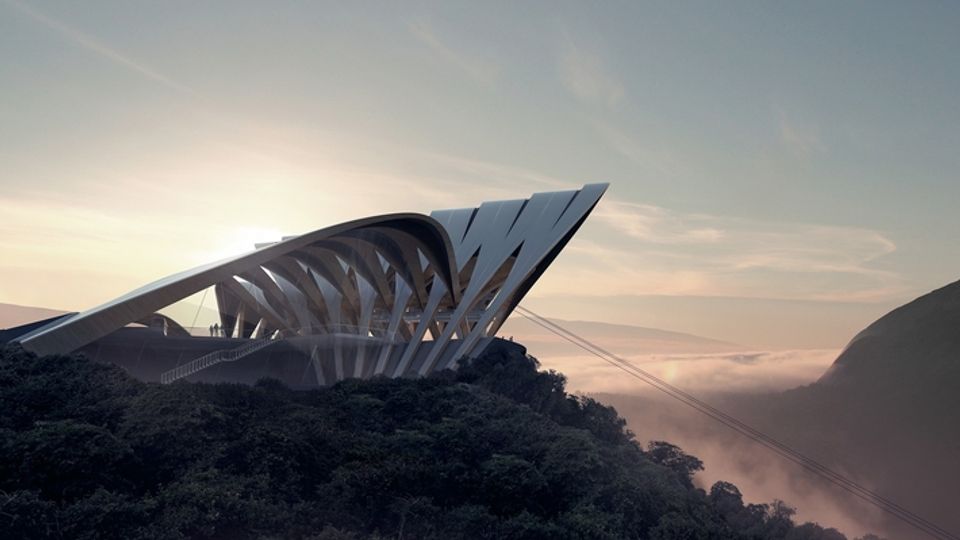 © ZHA / Bolzano Cable Car / render by www.mir.no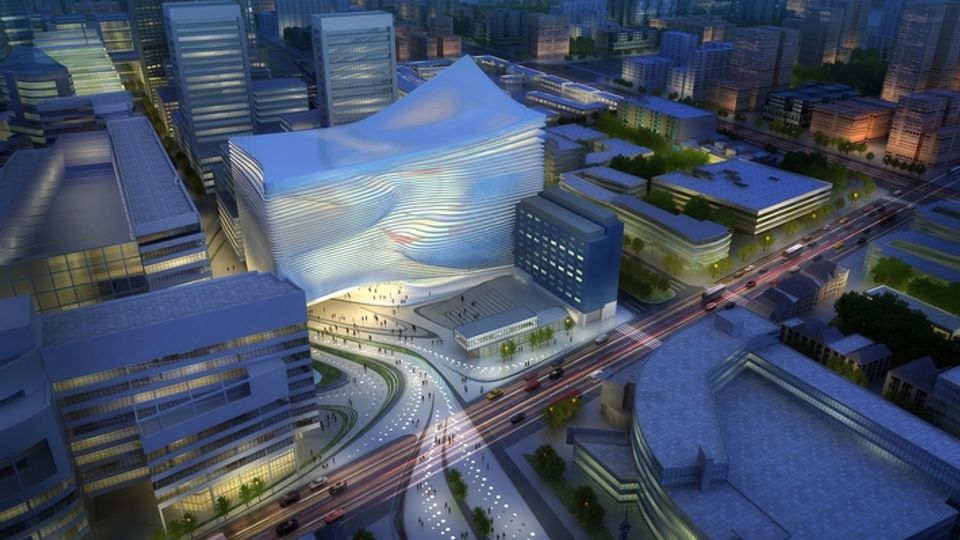 © ZHA / Dance & Music Centre / The Hague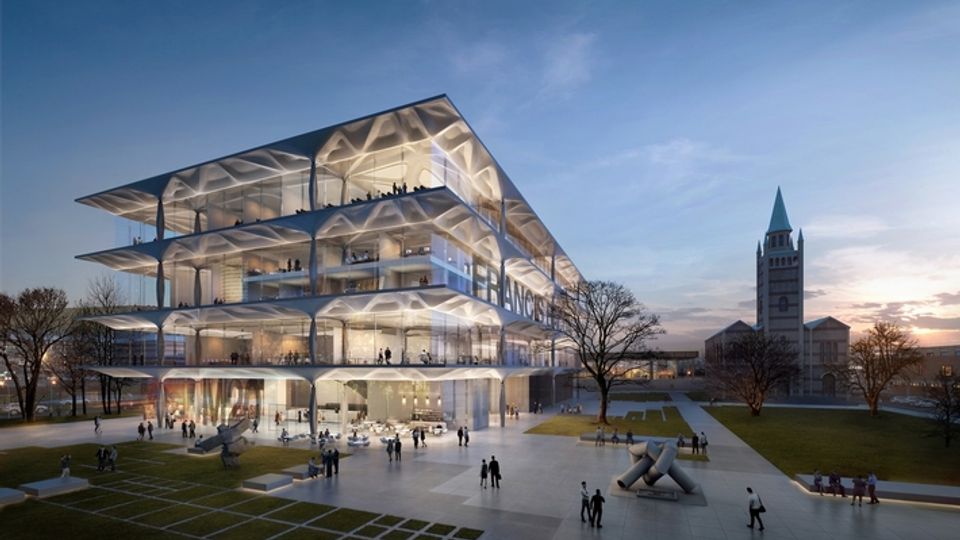 © ZHA / Museum of 20th Century Art / Berlin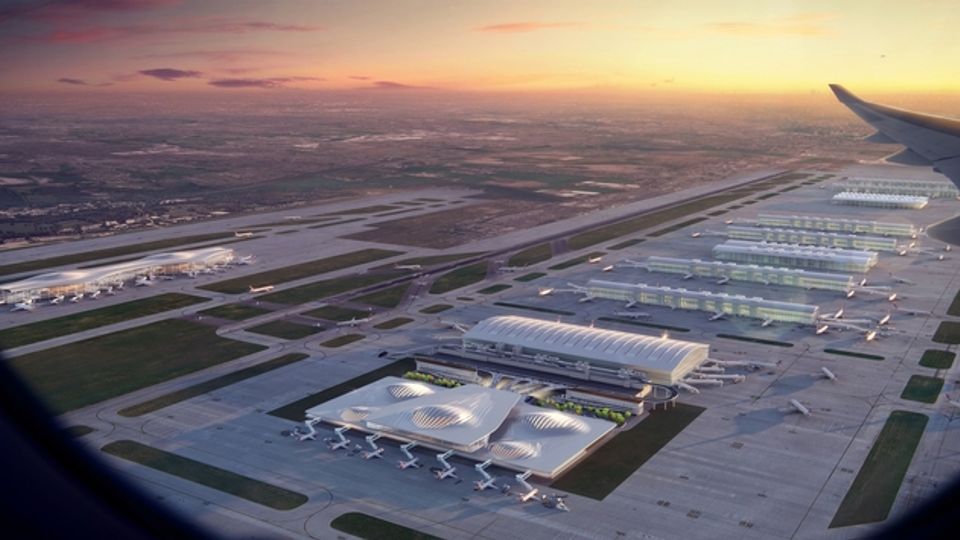 © ZHA / Heathrow Airport expansion / London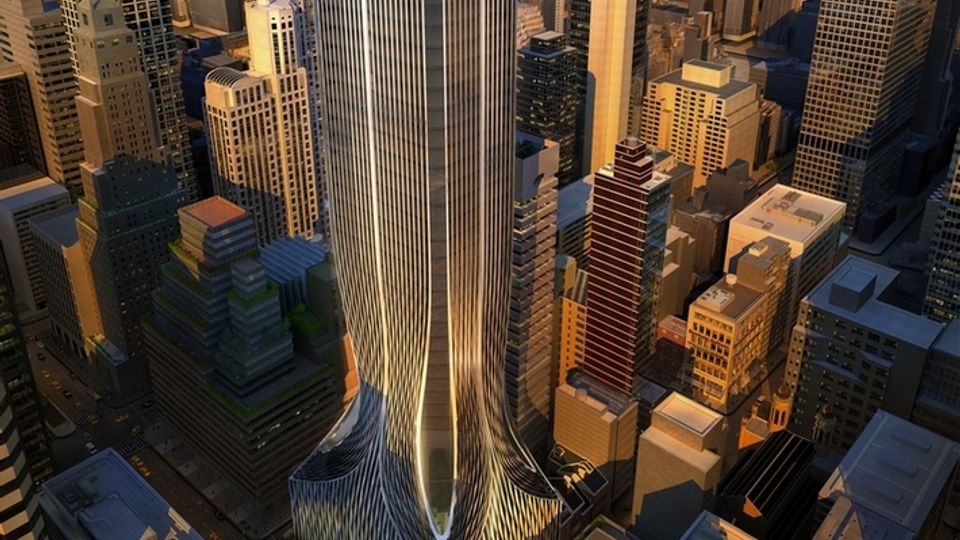 © ZHA / 425 Park Avenue / New York